Christmas Message from your President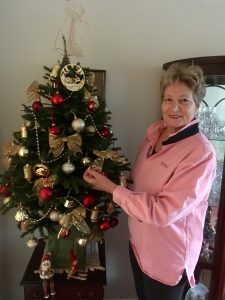 Another Christmas is just around the corner and everyone is planning to enjoy the festive season with family and friends.   
Quoting Calvin Coolidge 'Christmas is not a time nor a season, but a state of mind.  To cherish peace and goodwill, to be plenteous in mercy, is to have the real spirit of Christmas'.
Recently I attended the Woodland Primary School assembly to present a Rotary cheque which will enable the school music programme to continue for a further year.  Pupils were presented with certificates and awards and I was particularly impressed by the winners of their Christmas card competition. They incorporated peace on earth, depicting a football match at Christmas 1914 between enemies, but for one day peace and fellowship reigned!  This card will be reproduced and used by the school. It showed that even at a young age, children grasp the real meaning of Christmas, not all the hype, excitement and bustle that we all get tangled up in.
Over the last few months we have been involved with the Clarendon Marathon, Fireworks and Lantern Parade.  They were successful mainly due to Rotarian participation and commitment. Work has started on the planning of a Charity Concert in the springtime to enable Salisbury to get back to normal after the major incident in March.  It is hoped that local charities will benefit from the proceeds and we will be showcasing the Rotary cause.
Our club was founded in 1922 we will need to consider and plan our centenary celebrations, look to the future with fundraising, develop and strengthen our membership base but most of all enjoy and embrace the ethos of Rotary.
Our community needs and trusts us because it is a worthy cause.  As such our media footprint has been enhanced by raising awareness of our events, meetings and links to the local community.  Our website is currently being revamped, it falls to all Rotarians to encourage and utilise the modern methods of communication to raise the Rotary profile.
Behind the scenes systems and procedures are being streamlined to ensure compliance and efficiencies.  My thanks to all council members and officers for their support and efforts on behalf of this club.
This year I personally have experienced many things, enjoying a skydive to hopefully raise £500 for sufferers of domestic abuse.  I flew down through the clouds and to my amazement raised £1250 due to the generosity of family, friends and acquaintances.
The Congo was a real eye opener, to see what Salisbury Rotarians made possible for 25 women who now have the ability to earn a living and give their children an education and better living conditions.
For some of us Christmas is a time of remembrance, of loved ones and times gone by.  Being together with our families and friends we will continue to celebrate the spirit of Christmas, enjoying the laughter and joy of children opening presents.  Long may it continue!!!!!!
Bruce and I would like to wish you and your families a very Merry Christmas and a healthy and Happy New Year.