Centenary Project – Bookbenches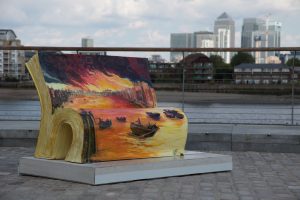 This year The Rotary Club of Salisbury is celebrating its 100th Anniversary.  Salisbury Rotary is helping to rejuvenate the city by linking up with Wiltshire Libraries and Wild in Art to bring iconic BookBench sculptures to the city.
Salisbury and Salisbury Library hope to work with Wild in Art and a range of organisations  to install book benches across the local area.
This project will raise awareness of the importance of reading and its power to change children's lives.  It will help people to get out and explore the city and all it has to offer.  Bookbenches have already worked successfully in Stoke and Manchester.  The project is looking to have at least 10 Bookbenches placed in locations around the city by early summer 2022.  Salisbury Rotary has a successful record in this type of project.  The Christmas Tree trail proved popular despite Coronavirus restrictions.